re-defining our relationship with nature
Rights of Nature is a way of re-thinking our relationship with nature – from one of dominance to one of sharing, caring, respect and interdependency. It can also act as a catalyst to shift our thinking from an extractive economy towards a regenerative economy. The idea of nature having rights is not new. Nature has rights. What is new is how we can intervene using a rights of nature lens to protect nature and to recognise the intrinsic rights of ecosystems and species to evolve, flourish, and regenerate.
Affording Rights to Nature is now vital because our laws, policies and environmental systems were never really designed to protect the environment. They were designed merely to reduce the rate of loss not to halt the loss in the first place or restore long term damage. EJNI's Rights of Nature project will support and provide a platform for collaborations between activists, NGOs, lawyers, and academics who aim to develop the rights of nature conversation on the island of Ireland.

Resources
As our Rights of Nature journey continues, we have produced a second film to debate the subject. Many thanks to all who contributed to these films.
EJNI has produced a short film in collaboration with organisations and individuals from across the island of Ireland and beyond that explores the concept of rights of nature. You can view both the full version (40 minutes) and short version (12 minutes) below. Many thanks to all who contributed to these films.
Submission to the Citizens' Assembly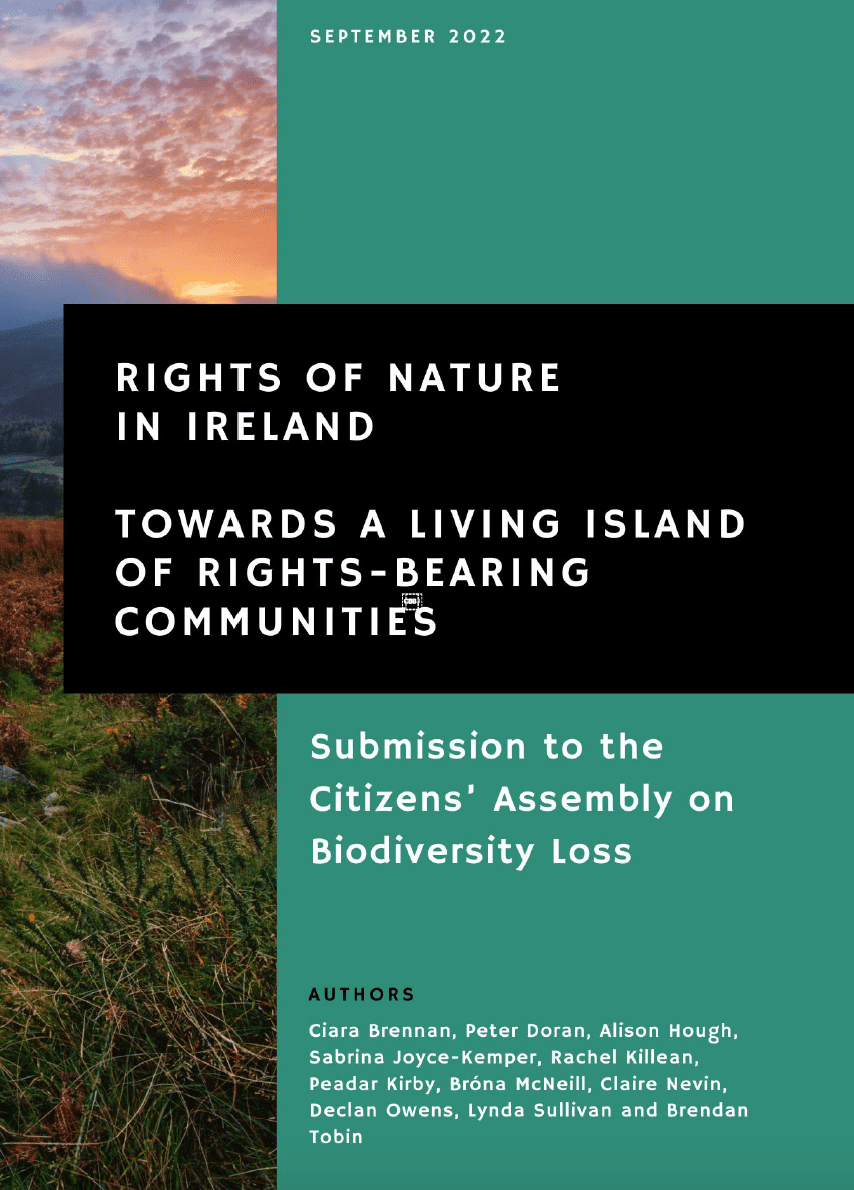 Briefing Papers
Webinar
Below are some links to existing resources relating to rights of nature:
Earth Matters programme about Rights of Nature and Lough Neagh can be viewed here
QUB Law Podcast on Rights of Nature with Dr Peter Doran can be heard here
Friends of the Earth NI have produced a briefing on rights of nature with guidance for local council level action on developing a rights of nature work programme. The briefing can be accessed here
The Center for Environmental Rights works with communities, indigenous peoples and tribal nations, grassroots organizations and civil society, and governments around the globe to advance Rights of Nature legal protections, and to implement and enforce these rights, more information on their work can be found here
Get Involved
Follow the Action via Social Media:
To get the latest updates on the project, you can follow EJNI@EJNI_Online